Holidays in the Dolomites: Trentino Culture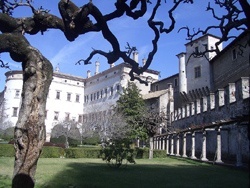 The museums of Trentino, large and small, indoors or outdoors, offer a fascinating look at the culture, art and history of Trentino.
The numerous museums in Trentino, scattered throughout the region, have a lot to offer. For those interested in history and ancient castles, the ideal place to go is the "Castello del Buonconsiglio". If, on the other hand, you love modern buildings and contemporary art, then don't miss the opportunity to visit the "Mart", the Museum of Modern and Contemporary Art.
Other smaller museums offer a fascinating perspective on the past life and culture of Trentino, as well as various aspects of how people lived and still live in the mountains. Also worthy of mention is the Mountaineering Museum. Naturally, natural and archaeological parks can also be considered real museums - open-air museums.
Insights: Ladin Museum
THE LADIN CULTURAL INSTITUT "MAJON DI FASCEGN"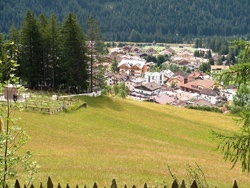 It is one of the cultural structures that operate in support of the Ladin community, a linguistic minority located in the heart of the Dolomites (Italy). Functional body of the Autonomous Province of Trento, established in 1975 (statute), it is based in San Giovanni (Vigo di Fassa) in the ancient "Tobià de la Pieif", the monumental barn near the parsonage of the Pieve di Fassa.
Its statutory purposes include the collection, arrangement and study of materials that refer to the history, economy, language, folklore, mythology, customs and habits of the Ladin people.
The Institute also promotes the dissemination of the Ladin language and culture through the media, collaborates with the school to enhance and develop language teaching and supports the organization of a permanent literacy program for adults (mail).
The documentation and research activity translates into a rich editorial production that includes the magazine "Mondo Ladino" (since 1977), the "Mondo Ladino Quaderni" series dedicated to the world of school, as well as monographs, dictionaries, collections of texts, books illustrated for children, catalogs, audiovisual media, for over 100 titles (Publications, Shop).
The commitment in the field of ethnographic research has led to the establishment of the Ladin Museum of Fassa, whose new headquarters was inaugurated in July 2001, the starting point of an ethnographic itinerary through the culture of Fassa (Museum on the territory)
MART: Museum of modern and contemporary art of Trento and Rovereto
The Brenta Dolomites
SOIUSA divides the Brenta Dolomites into an alpine supergroup, two groups and twelve subgroups:
Brenta and Paganella Group (A)
Brenta iss Group (A.1)
Massif of Grostè (A.1.a)
Big Stone-Red Stone Chain (A.1.b)
Subgroup Gaiarda-Altissimo (A.1.c)
Campa subgroup (A.1.d)
Central Brenta Group (A.1.e)
Massif of Tosa (A.1.f)
Monte Daino subgroup (A.1.g)
Ghez subgroup (A.1.h)
Catena d'Ambiez (A.1.i)
Subgroup of Fracingli (A.1.j)
Vallon subgroup (A.1.k)
Coast of Sabbion (A.1.l)
Paganella Group (A.2)
The main mountains of the Brenta Dolomites are:
Cima Tosa - 3.173 m
Cima Brenta - 3.150 m
Crozzon di Brenta - 3.118 m
Cima Ambiez - 3.102 m
Cima Mandron - 3.033 m
Torre di Brenta - 3.008 m
Brenta Alta - 2,960 m
Cima d'Agola - 2.959 m
Campanile Alto - 2,937 m
Cima Pietra Grande - 2,936 m
Cima Grostè - 2.901 m
Campanile Basso - 2,877 m
Castelletti di Vallesinella - 2.700 m
Sasso Rosso - 2.645 m
Piz Galin - 2.442 m
Croz dell'Altissimo - 2.339 m

Main Alpine Refuges:
The whole group is well served by numerous shelters. The main ones are:
Graffer al Grostè refuge
Tuckett Refuge
Brentei Refuge
Alimonta Refuge
Pedrotti / Tosa Refuge
Silvio Agostini Refuge
Twelve Apostles Refuge