Pinè and Cembra - S. Martino di Castrozza, Passo Rolle, Primiero and Vanoi
Ice is the real protagonist of winter on the Pinè Plateau, in particular after the construction of the ultra-modern Ice Rink di Pinè , usually the site of high-caliber competitive events.
The Ice Rink, open all year round, is a multipurpose facility that offers various opportunities for sports activities related to winter sports, such as speed, short-track and artistic skating, but also hockey, curling and broomball .
The Italian curling champion Joel Retornaz and his team train at the Cembra Palacurling, inaugurated in 2006.
There is also the possibility to practice cross-country skiing on the track near the Ice Rink di Pinè.
S. Martino di Castrozza, Passo Rolle, Primiero and Vanoi
With the unique beauty of the Pale di San Martino, the area offers 90 km of downhill slopes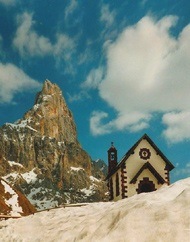 The landscape of the Dolomites with the incomparable scenery of the Pale di San Martino , the ancient historical centers of Primiero and Vanoi, the traditional welcome and hospitality of a first-rate tourist resort, complete the historic charm of San Martino di Castrozza and the Passo Rolle.
Located in the southern area of the great skiable domain of the Dolomiti Superski, this ski area boasts over 60 km of slopes for downhill skiing, toboggan runs, 30 km for cross-country skiing and as many well-trodden paths for fitness in nature within a natural environment of great value safeguarded for over thirty years by the Paneveggio - pale di San Martino Natural Park.
The tracks, of varying difficulty, are suitable for introducing beginners to skiing, but are able to thrill the more experienced skiers. Well prepared, their skiability is guaranteed by programmed snowmaking systems. There are also two snow parks, two ski schools, three areas equipped for children's snow games in San Martino, skating rinks, sports halls with gyms and swimming pools, horse-drawn sleighs, sports equipment rental, ski bus service.
A wide program of events, refuges and mountain huts where you can enjoy moments of relaxation, and proposals for excursions and leisure opportunities in après-ski enhance the holiday.
Trento and Monte Bondone
A gym in the snow, lots of sport and fun easily reachable on Monte Bondone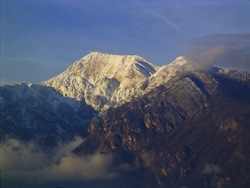 Monte Bondone is easily reached from the Brenner motorway, just 15 km from Trento, and offers 5 ski lifts and a modern artificial snow system that guarantee 21 km of slopes associated with the Skirama Dolomiti Adamello Brenta ski pass. A functional cross-country skiing center is set up in the sunny Viote basin: 35 km traced in the rich alpine vegetation of an area that is prized from an environmental point of view and equipped with all services. Associated with Super Nordic Skipass.
A versatile ski area of Monte Bondone, where in addition to skiing, downhill or Nordic, or ski mountaineering on the beautiful Tre Cime track, it is possible to hike with snowshoes, skate, play curling, go downhill with tobogganing and entertaining children, in the Kinderheim Monte Bondone Indoor and in the Viote at the cross-country center.
Fun is also guaranteed to snowboard enthusiasts: in addition to jumps, rails and snowcrosses, the Monte Bondone Snowpark also has an Olympic structure, the Super half pipe with its 120 meters in length and 5 and a half meters high banks.
Monte Bondone is a spectacular natural terrace with a 360 degree view of the Brenta Dolomites and the Trentino mountains. Here skiing took its first steps in 1934, when the first ski lift in Trentino was built. It is the ideal choice for families, for ski clubs and for all ski lovers. It can be easily reached from Trento by public transport and the ski bus.