Val di Non, Val di Sole, Paganella Plateau - Trento, Val d'Adige, Piana Rotaliana, Cembra Valley
Val di Non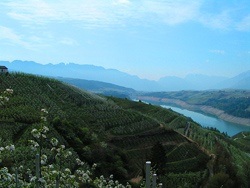 Crossed by the Noce river, the Val di Non looks like a succession of three plateaus. This area has space for apple cultivation, which has made this corner of Trentino famous.

In addition to the orchards, which offer a unique spectacle during the flowering period, the lakes, numerous castles and alpine sanctuaries are worth a visit.

The northern part of the valley is characterized by a mountain economy: in the local dairies the milk is transformed into the prized Grana Trentino.
Val di Sole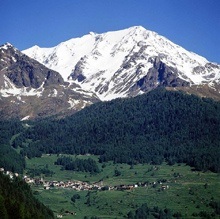 Surrounded by the mountainous reliefs of the Brenta, Adamello, Presanella and Ortles-Cevedale, the Val di Sole instead appears as a typical alpine valley of glacial origin.

The predominant aspect of this area is represented by the water, first of all that of the Noce stream, which flows into the valley and becomes an ideal gym for canoeing and kayaking enthusiasts, but above all for rafting. The small valleys of Rabbi and Pejo also deserve a mention, the first for the suggestive landscape, the second for its thermal baths, fed with ferruginous waters.
Paganella plateau
There is a place in Trentino, where natural beauties and authentic traditions find their perfect synthesis.

It is the Paganella Plateau, a mountain land that offers its visitors the pleasure of spending an active holiday in the name of nature, wellness and fun, a unique opportunity to regenerate in the heart of the Brenta Dolomites and the Park Natural Adamello Brenta.
Trento, Val d'Adige, Piana Rotaliana, Cembra Valley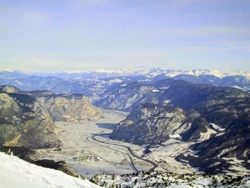 Defined to the south by Vallagarina and to the north by the province of Bolzano, the Adige Valley embraces the entire valley floor along which the river of the same name flows. The most important center is Trento, a Roman city rich in historical and artistic testimonies, located at the foot of Monte Bondone, a destination for summer and winter tourism.
To the north of the capital opens the Piana Rotaliana, an extensive flat area where the native Teroldego vine is mainly cultivated, from which a fine red wine is obtained. Thanks to famous winemaking and sparkling wine cellars and to the Agricultural Institute of San Michele all'Adige, this area is a viticultural center of international prestige.
Cembra Valley
A little further north of Trento, towards the east, the Cembra Valley opens up, an area full of charm, characterized by large terraced vineyards where the white Müller Thurgau is mainly cultivated, which has found its natural habitat here, giving life to a wine of great quality, fragrant and very aromatic.